Grand Ch Kysaridge Loyas Mufasa ET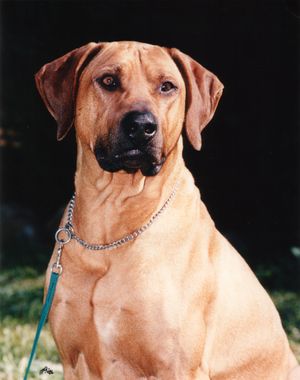 DOB 11 November 1994 (to 26 April 2001)
Height 67cm
weight 42kg
Hips 7:3
Elbows 0:0
Eye Certificate Clear
Toomba was my special boy, he was number 7 in a litter of 9, being born at the 11th hour of 11 November (Remembrance Day). He was the first to bark at me, first to climb out the whelping box, first to escape from the puppy run, first to climb in the dog paddling pool and first to fall in the swimming pool. How could I not keep him? He eclipsed all my wildest dreams. He died in his sleep and it was sudden & unexpected as we didn't even know he was ill. Even the vet who saw him a few days earlier was shocked by it. It turned out he had liver cancer although he showed no outward signs.
He gained his show title at 14 months and became a Grand Champion at 4yrs. He had over 1600 CC pts and this was before Best Of Breed pts were awarded, so they were all Dog CC pts only. His wins included:
10 Best Exhibit in Groups,

12 Runner Up Best in Groups

70 Class in Groups (every age class Baby Puppy to Open),

12 Class in Shows – Speciality and All Breeds,

Best Gaited and Headed at Hound Specialities,

3 Best Ridge at Breed Specialities,

3 Royal Best of Breeds, 1 Runner Up BOB

4 Royal Dog Challenges, 1 Reserve Dog Challenge,

Only unplaced at 2 Royals from 14 attended (Cbr, Syd, Bris, Melb, Adel & Dar),

Placed at 8 from 12 Specialities attended (Cbr, Syd, Melb & Adel),

Rarely unplaced under Breed Specialist,

Winner of the All Age Pointscore 1996 (RRC- NSW)

Qualified finalist for CKA Guineas 1995 & 1996.
Other achievements;
1st place and qualified Advance Class at Obedience (& it was raining);
4th place and qualified Novice Encouragement;

Member of the "Flying Ridgebacks" Agility team in the 1998 ACT Final of National Agility teams event. Toomba was a Ballistic Missile – Speed was not his problem, self-control was;

Photographic model – Toomba was used for a photo shoot with the resulting photo winning a prize in the art exhibition;

Sledding – as a joke we harnessed Toomba to a friends sled and he loved it. I don't think he even noticed the sled dragging behind.