My name is Helen Mosslar and I'm in the Australian Capital Territory. I've been involved in Rhodesian Ridgebacks since 1983, with my first litter being born in 1987.
I've had many Ridgebacks over the years and one Hungarian Vizsla. As well as showing, I have also competed in Obedience, Rally O, Agility, Endurance, Flyball and Lure Coursing. Many of my dogs have titles on both ends of their names.
My aim is to breed sound dogs, with great temperaments that can do many things, as well as make great family pets. I health test all my breeding stock and raise my puppies in an environment to encourage great temperaments and social skills. I have been Raw Feeding the BARF diet since 1993.
As well as an being an Obedience and Agility Instructor, I am also an ANKC licensed Agility, Jumping, Games judge, Endurance Test Judge and Lure Coursing Judge. I'm also a life member of the Tuggeranong Dog Training Club.
I don't breed often, having only produced 13 litters in the last 36yrs and my next litter will not be for a few years. I am however more than happy to help with breed information.  My email is helen@mosslar.net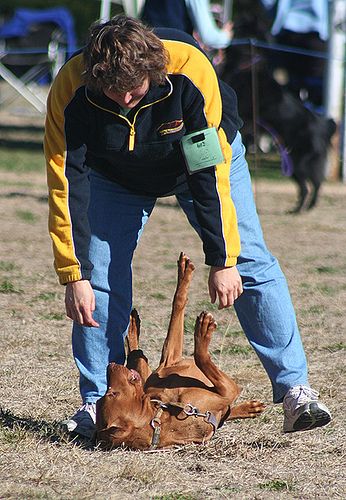 Champions I have bred and/or owned.
Ch Lwillows Cherry Ripe (liver nose)
Ch Fennridge African Kali
Ch Kysaridge Kali's Meisje ET
Ch Nkazimlo Loya
Grand Ch Kysaridge Loya's Mufasa ET
Ch Kysaridge Loya's Simba CD ADX
Ch Ravvar Danae Alia AD JD ET NJC
RUBIS Grand Ch Daingeann Kobi AD JD SD SPD ET (Vizsla) 
BIS Grand Ch Kysaridge Alia Caesar RN AD JD SD
Ch Kysaridge Alia Claudia AD ET
Ch / Neut Ch Kysaridge Talia Varda ET
Ch Kysaridge Talia Tulkas
BIS Supreme Ch Kysaridge Cevarda Jupiter RN ET
Ch Chilolo EK Charged in Gold
BISS Ch Kysaridge Ceezu Apollo Gold (co-owned)
BIS Grand Ch Kysaridge Ceezu Solar Gold
Ch Kysaridge Ceezu Athena Gold
Ch / Neut Ch Kysaridge Gold Aurelia ET
Ch Kysaridge Aurelias Gaia ET
Ch Chilolo CHS Tiramisu (co-owned)
Ch Kysaridge Aurum Kei (AI)
Photo credits go to 
FFiona Eskine (FFire photograph) - lure coursing, showing 
Sue Town - lure coursing, agility
Tammy Watts, Lara Sedgmen - Agility