RUBIS Grand Ch Daingeann Kobi AD JD SD SPD ET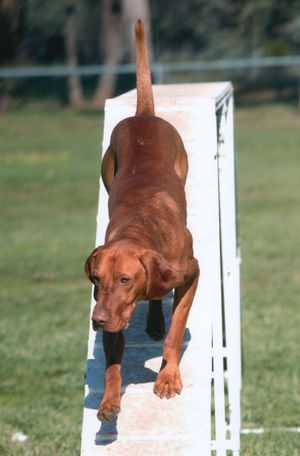 DOB 26 September 2001 : 30 April 2015
Height 60cm
weight 29kg
Frozen semen available
Bred by Belinda Mitchell
Hips 3:0
Elbows 1:0
Kobi was my 'long eared, short tailed' ridgeless liver nose' or correctly known as a Hungarian Vizsla or my Hungarian Crazy Dog. Kobi joined the family to fill the void left by Toomba. Loya needed a boy to play those games with, Alia needed a squeaky toy and I missed having a boy dog around. I've liked Vizslas for a long time, so I thought it was a good time to have a bit of fun with something different. Kobi was certainly fun, he was a real clown.
He had an amazing show career, winning his first Best of Breeds over competition at 7months of age and obtained his Ch Title at 12 months 10 days of age. He became a Grand Champion just before his 5th birthday. Two weeks later he won an All Breeds Runner Up Best In Show. When he retired from the show ring, Kobi had over 1200 pts, all from Dog Challenge pts (Best of Breed didn't get extra points then).
Kobi gained his Endurance Title (ET) with ease on 22 August 2004. As the pace setter I was at the front of the group and Kobi soon worked out where the course went & was leading me around. At the end of the test, Kobi wanted to do another lap and was a bit disappointed when the bikes got put away.
Kobi was frequently used for Child Handlers. He liked children and was a self-stacking dog, so would adjust himself if they happened to get it wrong. Being well trained, he would automatically do a triangle, even if they dropped the lead.
I started really competing in Agility after he retired from showing. He enjoyed it a lot and was a real clown about it, frequently making me the laughing stock of the ring.  He gained his Novice Jumping (JD) in June 2007, his Novice Gamblers (GD) in Jun 2008, his Novice Agility (AD) in 2009, his Novice Strategic Pairs (SPD) in April 2010 and his Novice Snooker (SD) in August 2011. Although he had passes towards his Excellent Jumping title, he was retired from Agility when he injured himself. Being the Obsessive Tree Climbing Bird Dog he was, he caught his foot in the tree branch and when pulling it out, torn a muscle. Did I tell you he was an idiot?
Kobi's achievements;
Runner Up Best Exhibit in Show All Breeds

2 x Consolation to Best in Show

3 x Best Exhibit in Group

6 x Runner Up Best Exhibit in Group

20 x Class in Group

5 x Class in Show

Multiple Best Headed Dog at Specialities

Class in Show Speciality