BIS Grand Ch Kysaridge Alia Caesar RN AD JD SD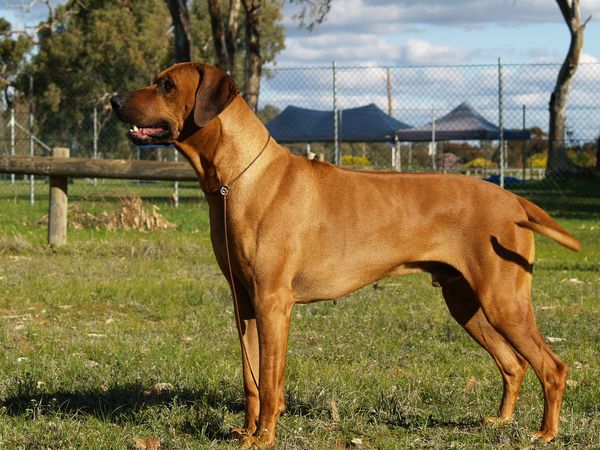 DOB 15 Sept 2003 to 28 August 2018
Height 66cm
weight 42kg
Frozen Semen available
Hips 0:0
Elbows 1:1
DM N:N normal
JME Clear by DNA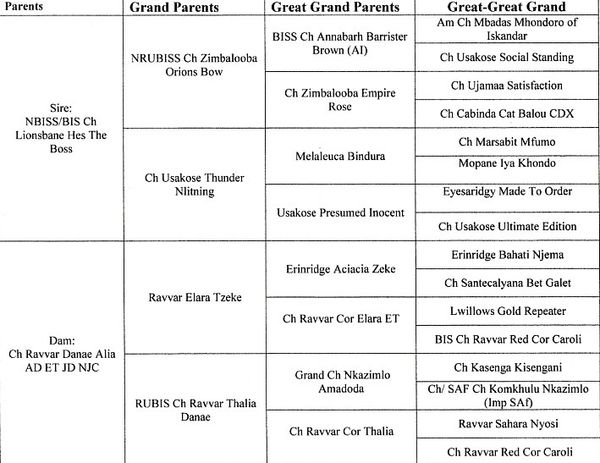 Caesar grew up at my brothers place with 4 kids to play with. He did his basic obedience training with the eldest Patricia on the end of the lead. As a youngster he was known as Captain Kangaroo in the show ring, due to his habit of bouncing shoulder high when he was happy, which was quite often.
He did well in the show ring right from the start. His first Best of Breed in competition was when he was only 6 months old. He gained his title at 12 months and his Grand Ch a month after his 3rd birthday. This was all done on Dog CC points, as back then the Best of Breed didn't get any extra points. When he retired from the ring at 5 year of age (he was bored with it) he had over 1300 pts all from Challenges only.
He started in Agility later in life, but loved it. Being a big dog with plenty of enthusiasm had its draw backs, as he tended to forget to duck into tunnels and sent them flying. He was often used as the test dog on new equipment, as if it held up to him hitting it at speed then it would hold up to anything. He gained his first title (Novice Snooker) in August 2011 just before his 8th birthday and his final title (Novice Jumping) a year later as a 9 year old. Due to his age and size, we retired from competitive agility after that, as I wanted him to remain sound into old age.
Caesar is now 14 ½ yrs old and is still reasonably fit and healthy for a dog of his age. He enjoys telling his granddaughter and great-granddaughter off for stealing his comfy bed.
Caesar achievements
Best Exhibit in Show – All Breeds

7 x Best Exhibit in Group

20 x Runner Up Best Exhibit in Group

50 x Class in Groups (Baby to Open)

7 x Class in Show

Multiple Class or Opposite Class in Show at Specialities

Best Brace in Show with Caesar – RR Vic 2011

Best Brace in Show with Saba – RR Qld 2009

Ridgeback of the Year 2005 & 2006 (RRC NSW)

All Age Point score winner 2005 (RRC NSW)

Novice Jumping Dog of the Year 2012 (TDTC)

Novice Agility Dog of the Year 2013 (TDTC)