Ch Kysaridge Kali's Meisje ET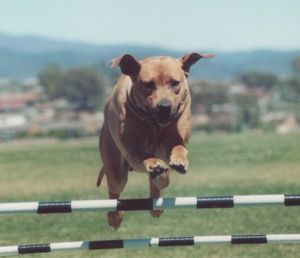 Sire: Ch Kasenga Kisengani
Dam: Ch Fennridge African Kali
DOB: 12 May 1987 (to 31 December 2000)
Height 64cm
Weight 36kg
Hips 3:1
Meisje was from the 2nd litter I bred and she lived with my brother and his family. She was never bred from, but she brought up 3 human children.  She was a real character and loved retrieving (or trying to)  on land and water. Balls, Rabbits, ducks, canoeists....you name it and she would try to retrieve it.
She did very well in Agility (gaining 2 passes) and Obedience (gaining 2 passes) . Unfortunately that 3rd pass was just not meant to be, so she never titled. She also loved Flyball and sighthound racing.  She was actually the first Ridgeback in ACT/NSW to win places in Agility and Flyball. Meisje was a member of the "Flying Ridges" with her mother and Aunt Loya.
Meisje completed her Endurance Test (ET) in the first year they became a recognise Dog Sport in NSW/ACT, she was 7yrs old and did it with ease. She was the first dog of any breed to be awarded this title by the Canberra Kennel Association.
Like her mother Kali, Meisje was active in Agility until she was 12yrs old. As a 13 yr old, she amazed the Trainee Judges by still running freely around the ring.