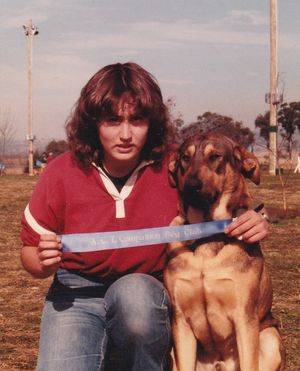 Oscar was my first dog and therefore the best dog. He was a neutered male and it was because of him I discovered the Rhodesian Ridgeback. His mother was a purebred ridgeback owned by my brothers work college and his father the neighborhood German Shepherd. 
Oscar was very placid and had that cuddly teddy bear look, so kids who were normally afraid of dogs just loved Oscar. My mother would take him to the school to pick up the grandkids and the primary school kids would line up to pat him.   I would watch the Ridgebacks at the dog club and realised that Oscar's temperament was more Ridgeback than GSD. So decided my next dog would be a ridgeback.
Oscar won around 20 big ribbons for Obedience, including Best in Club Competition for 1984 and 2 passes towards his CD. Unfortunately you needed 3, so we didn't get the title.  Working with Oscar in obedience is also what started my interest in dog sports. Because of him, I became an Obedience Instructor, which was the start of my journey.